Spice Money Login, spice money, b2b spice money, spice safar, spicemoney all of you are once again very welcome on this new post of ours, today we have brought information for you to become an agent of Spice Money! Spice Money Retailer Registration
As you all know that there are a lot of companies available in the market to provide a lot of portals and provide IDs for balance inquiries to withdraw money to do railway tickets for online transactions.
But we are going to tell you that at this time, Spice Money is India's portal of Best AEPS (Aadhar Enable Payment System) through which you can use the money transfer money withdrawal, PAN card etc. services
Service Through Spice Money CSP Portal
Spice Money Login and Overview
Name of the Company
Spice Digital Limited 
Type
Private Limited
Service
Recharge, AEPS service, ticket booking, PAN card, bill payment etc.
Office
Noida (India)
Membership
Payment Process
Associate bank
Induslnd Bank,Yes Bank, RBL etc.
Official Website
https://spicemoney.com/ | https://b2b.spicesafar.com/loginPageLogin
Direct Registration Link
 Click Here
withdrawal of money
bank account balance inquiry
Money transfer all india
Withdraw money through ATM
Railway ticket
Insurance
Pan card application
Airplane ticket booking
hotel booking
Now we are going to tell you that if you want to get spicemoney Retailer Registration / Agent ID and you also want to take up business using "spice safar" Spice Money banking and other services and a way to earn more and more money We tell you to turn it on!
What is the process of taking spicemoney CSP and how much will you cost spicemoney Registration Fee?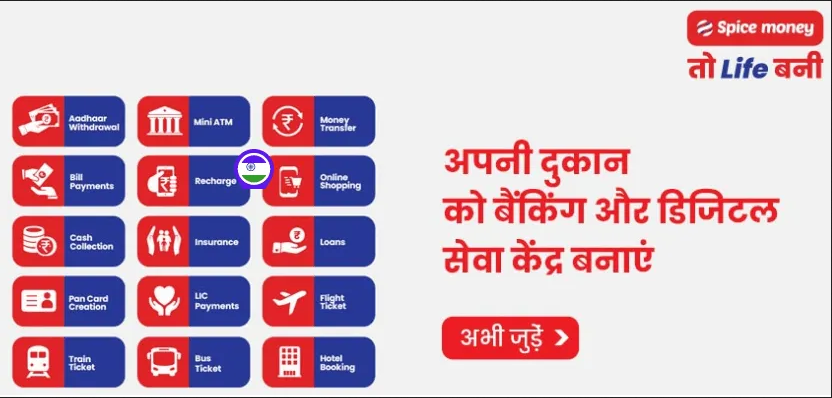 What Document Required for Spice money Retailer – Documents required to become an agent
Aadhar Card (Self Signed)
Pan Card (Self Signed)
Agent Passport size color photograph
Cancel Check
3 Way to Register Online For Spice Money Retailer & Distributor Portal
Website
Spice Money Agent/ Distributor
Customer care
Get Spice Money Retailer ID Through Website Registration
If you want to register Spice Money ID through "spice safar" the website, then you click on the link given below and a screen will open in front of you, here you have to write all your information and upload your PAN card and Aadhaar card.
And you have to upload your photo too and by ticking on the services given below you have to click on the submit button and here a reference number will be generated in front of you!
You keep it safe with you, within 24 to 48 hours you will get a call from the company and your information will be authenticated and then you will get your SPICE Money Agent User ID and Password!
Spice Money Retailer id Through Agent / Spice Money Distributor
If you want to do Spice Money Retailer ID registration through your Android mobile, you will get Spice Money Distributor Whatsapp Group by clicking on the link given below and you can get Spice Money Retailer ID by contacting Spice Money Agent. !
If you do not want to choose any of the above two "spice safar" options, then you can call Spice Money's customer care number and they will tell you how to get your b2b spice money retailer ID
And there you will be asked for all the information and they will themselves register your retailer from there and Spice Money Agent ID and password will be sent to your registered email id mobile number!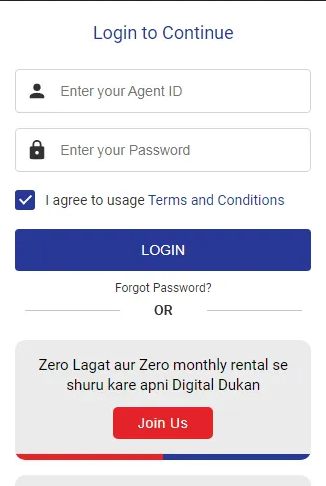 Spice money registration fees
Let us tell you that to get Spice Money's Retailer ID, you will have to pay Rs 299!
Through b2b spice money AEPS, you can withdraw up to 10 thousand rupees from any customer in a day!
Spice money customer care / Spice money contact number
+91 120 3986786, +91 120 5077786
[email protected]
Spice Money Agent Login Link
Download Spice Money Merchant Android Application
Apply Online For Rapipay Agent / Retailer ID
Get Best RAPIPAY AEPS Portal at Just 500 Rs, Agent ID Activation in 48 Hours, Fastest AEPS Server-Apply Here
If you liked the information given by us "Spice Money Registration, Spice Money portal login" then share it with your friends and if you have any problem then don't forget to write in comment box!
Spice Money B2B Login
You can get your registration done by going to https://ift.tt/jL1gnqi.
Now you have to go to the official website and search for B2B.
On the page that opens, you will have to login with your user ID and password.
Read the terms and conditions carefully and if agreed, OK the box is given below.
Now go to the main page by clicking on the login button.
In case of not being able to login, you can reset your password.
To reset the password, you have to click on the reset password.
Once the password is reset, you can go to your account and take advantage of b2b services.
Spice Money AEPS
To start this service offered by Spice Money, you have to login to your Spice Money account. After login you can use the facilities provided under AEPS such as – Financial transactions, POS (Point of sale), Microatm. With this, you are given the facility to transfer money to any bank at any time. b2b spice money, spice safar, spicemoney
Through your Aadhaar card information, you can transfer money from AEPS. The benefit of this facility is provided to you after logging in Spice Money. After today's cashless "spice safar" facility, everyone now performs their financial activities through the Aadhaar Enabled Payment System
नीचे कमेंट करके अपना अनुभव साझा करें, इस लेख को पढ़ने के लिए धन्यवाद, इसे अपने दोस्तों के साथ साझा करें और कमेंट करके बताएं कि आप किस विषय पर लेख प्राप्त करना चाहते हैं धन्यवाद
ध्यान दें :- ऐसे ही केंद्र सरकार और राज्य सरकार के द्वारा शुरू की गई नई या पुरानी सरकारी योजनाओं की जानकारी हम सबसे पहले अपने इस वेबसाइटcscdigitalsevasolutions.com के माध्यम से देते हैं तो आप हमारे वेबसाइट को फॉलो करना ना भूलें ।
अगर आपको यह आर्टिकल पसंद आया है तो इसे Like और share जरूर करें ।
इस आर्टिकल को अंत तक पढ़ने के लिए धन्यवाद…
Posted by Sanjit Gupta


How can I spice money agent?
You can get the 
Spice Money Agent ID by contacting your nearest distributor and giving the following documents.
1. Keep all the documents mentioned below ready in JPG format.
2. Aadhaar Card Signed.
3. PAN card signed.
4. one photograph.
5. Your Email ID and Mobile Number.
6. Fill This Form –CLICK
How do you use Spice Money app?
# 4: Accept Payments from Customers (mPOS) and QR Code
You can let your customers pay you 
using a QR code or an mPOS machine by swiping their card. 
Alternative Available: Most UPI 
apps let consumers transfer 
money to you 
using a QR code scanner
What is spice money mini ATM?
MINI MAGIC: 
Spice Money came up with a new 
ATM card swipe machine called 
Mini Magic mPOS. 
Spice Money 's Minimagic is capable of accepting payments from both debit card and credit cards of all banks in India. 
… You can use 
Spice Money Mini Magic 
ATM card swipe machine to check 
bank account balance also
What is spice money Adhikari?
Spice Money enables agents to provide Banking, Travel, Electricity & Utility Bills and Payments related solutions to customers
What is Spice Money app?
Spice Money Payments allows a merchant to accept payments from their customers using BHIM Aadhaar Pay, mPOS and BHIM UPI. 
It is a merchant only 
app . 
… A customer can pay using the fingerprint authentication
The post Spice Money Free Registration online Limit time | All Bank CSP Point 2022 appeared first on Sarkari Yojana | सरकारी योजना सूची 2022.